Euroshield Rubber Roofing Duvall WA






Euroshield Rubber Roofing Duvall WA
Roofworks Northwest is a reliable roofing company based out of Duvall, WA. We specialize in Euroshield rubber roofing, an innovative and cost-effective solution for commercial and residential buildings. Our team of experienced professionals provides exceptional customer service and workmanship on every job. With our commitment to quality, it's no wonder why Roofworks Northwest has become the go-to source for rubber roofing in the Northwest. 
From installation to repair, Roofworks Northwest offers comprehensive services that meet the highest standards of excellence. Our commitment to superior customer service sets them apart from other roofing companies in the area, making them the ideal choice for all your rubber roofing needs.
Euroshield Roofing Installation
At Roofworks Northwest, we specialize in Euroshield Rubber Roofing installation for Duvall, WA. It's the perfect roofing solution for those looking for a durable, watertight covering that will last for years to come. Euroshield's liquid rubber membrane is highly cost-effective, providing superior waterproof protection and defense against extreme weather conditions. The membrane is extremely easy to install and requires minimal maintenance compared to other types of roofing material.
Our certified installers will ensure your Euroshield Rubber Roofing is properly installed so you can rest assured it will remain leak-free and secure. We guarantee our workmanship and provide warranties to back up our commitment to customer satisfaction. With Euroshield's high-performance liquid rubber membrane and professional installation from Roofworks Northwest, you can enjoy a reliable roof that looks great and lasts for years.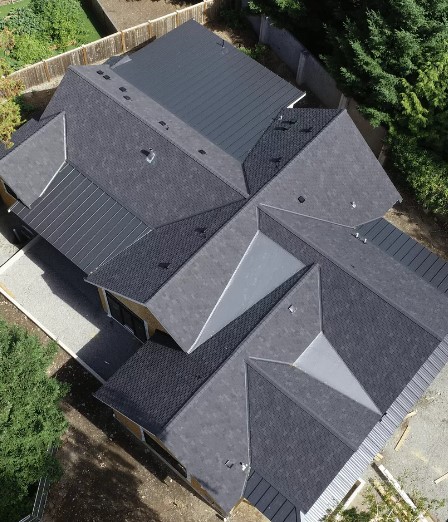 Making the switch from traditional shingles to Euroshield rubber roofing is a great decision for any home or business owner looking for superior protection and longevity. Not only does this system provide superior protection against inclement weather, but it also requires less maintenance than other roof systems on the market.
The shingles are made of recycled rubber materials and are designed to be highly durable, long-lasting, and resistant to cracking or splitting. They come with a built-in sealer that helps protect the material from fading or discoloration caused by the sun's UV rays. In addition, the entire system is designed to be energy efficient, helping lower your energy bills throughout the year.
Euroshield rubber roofing systems offer an array of benefits for homeowners looking for an attractive and economical alternative to asphalt shingles. The product is easy to install and can provide years of reliable performance with minimal upkeep. It offers superior protection against rain, wind, hail, and other harsh weather conditions while also providing excellent insulation properties that can help keep your home cooler in the summer months and warmer in the winter months.
Plus, when properly installed by a professional contractor, you can have peace of mind knowing your roof will remain secure even through extreme weather conditions.
Have you been looking for rubber roof repair near you? If so, Roofworks Northwest is here to help. We specialize in Euroshield Rubber Roofing and provide the best services for maintenance and repairs. Our team is highly experienced in applying the proper coating to ensure your roof is protected against the elements and remains in great condition. We use only high-quality materials that are designed to last, so you can trust that our work will stand up to whatever Mother Nature throws at it.
Our services also include regular checkups and inspections of your roof. This allows us to identify any potential problems before they become serious and costly issues. With our quick response time and efficient solutions, we can help you avoid costly repairs down the road.
Plus, our team of experts will make sure that any job we do is done right the first time! So if you're looking for top-notch rubber roof repair near you, look no further than Roofworks Northwest.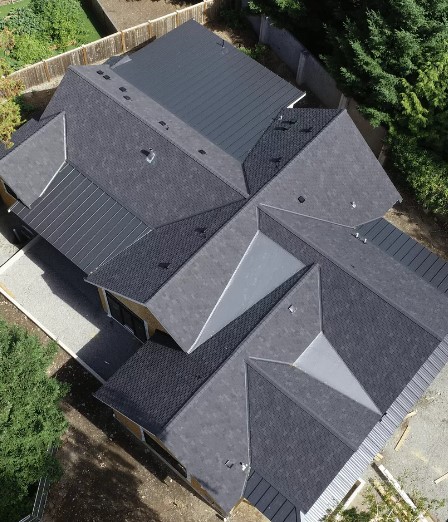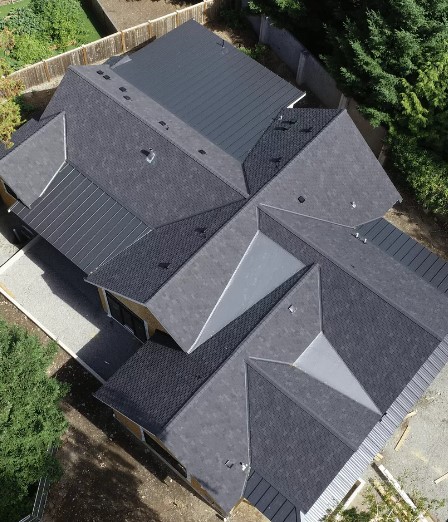 Roofing Rubber Sheet
Having discussed the repair of rubber roofs, 
it's important to also consider how they are constructed in the first place. Rubber roofing sheets are a popular choice for many homeowners because they provide a great barrier against water and other elements. They are also lightweight and easy to install compared to traditional shingles.
The sheets come in various sizes and thicknesses, with some designed for specific climates and others that are more general purpose. The installation process usually takes about two hours, depending on the size of the area being covered. Once installed, rubber roofing sheets provide an excellent seal that helps protect your home from weather and debris damage.
They also last longer than traditional shingles, often up to 30 years or more, with proper maintenance. In addition, these sheets come in a variety of colors, so you can choose one that matches your home's aesthetic. With all these benefits, it's no wonder why many homeowners opt for rubber roofing sheets when looking for a new roof covering option.
At Roofworks Northwest, we prioritize customer satisfaction and guarantee the highest quality services for all of our clients.
Our team of certified professionals has years of experience in the rubber roofing industry and is committed to providing superior results for each job. If you're looking for an experienced team that can provide reliable and long-lasting results, then look no further than Roofworks Northwest.
Here are just a few reasons why you should choose us:
We only use top-of-the-line Euroshield rubber roofing products that have been tested to withstand extreme weather conditions

All of our technicians are certified and have extensive knowledge in the roofing industry

We offer competitive prices that won't break your budget

We have a proven track record with hundreds of successful projects completed in Duvall WA

Our customer service is second to none – we provide personalized care and attention to every project we take on.
We understand the importance of your investment, which is why we strive to deliver superior workmanship and quality materials that will last for years to come. With our commitment to excellence, you can trust that Roofworks Northwest has the experience and expertise needed to get the job done right.
We at Roofworks Northwest are proud to provide our customers with the best in Euroshield rubber roofing. 
Our experienced team of professionals will help you choose the right product for your home and make sure it is installed correctly. We stand by our work and guarantee that you will be satisfied with the results.
With our years of experience, we know what works and what doesn't in rubber roofing, so you can trust us to get the job done right. If you are looking for quality rubber roofing services in Duvall WA, look no further than Roofworks Northwest.